Current Galleries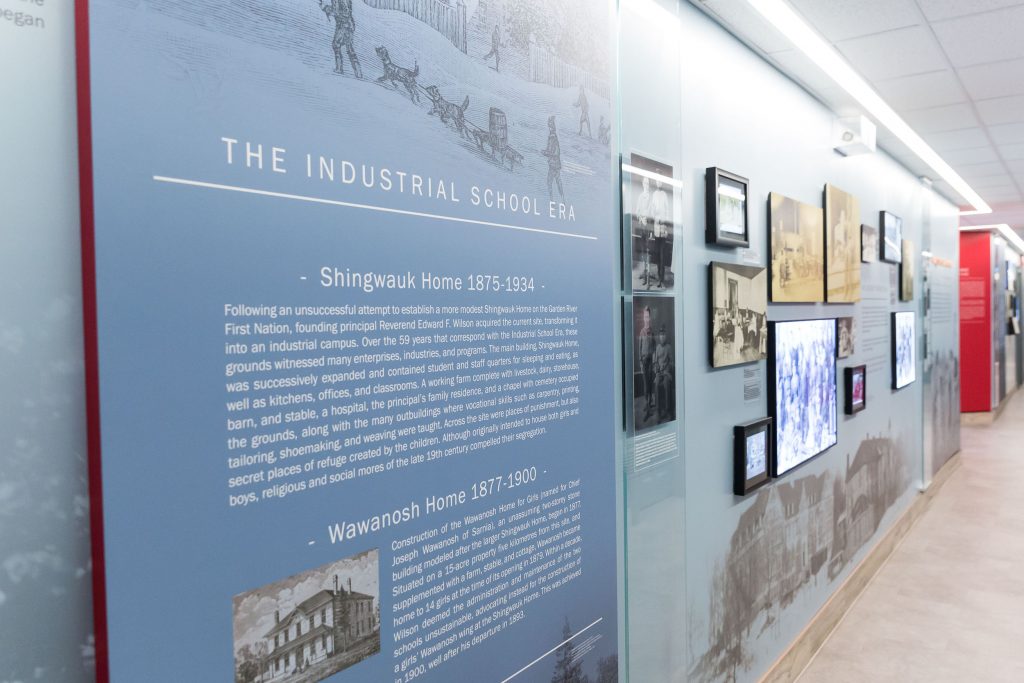 We are all Children of Shingwauk Gallery
This space witnesses the comings and goings of hundreds of Indigenous children from communities near and far.  It features photos and stories of some of the earliest students of the Shingwauk school in its industrial phases, contemporary portraits and testimonies of Survivors, and 'selfies' of current Algoma and Shingwauk Kinoomaage Gamig students. Here, visitors will see how entire families were connected to the Shingwauk site and learn about the remarkable ongoing healing work that has taken place.
Life at the Shingwauk Home: an Indian Residential School Gallery
This gallery illustrates how a scattering of modest buildings on 90.5 acres of land acquired in 1874 for 'Indian Education' became an ever-expanding industrial school complex and home to hundreds of Indigenous children. It charts the Shingwauk and Wawanosh Schools' transition from industrial to residential school through photographs, offering a glimpse of the day-to-day existence of children over the years of the schools' operation.
From Teaching Wigwam to Residential School Gallery
This space recounts the story of Chief Shingwauk and his vision to create 'Teaching Wigwams' as a means of sustaining Anishinaabe self-determination. This historical gallery, which begins in the late 1700s, traces the history of the first iterations of the teaching wigwam through the absorption of the Shingwauk Home into the Canada-wide Indian Residential School System.
Shingwauk Schools Gallery
This gallery is an artifact-orientated storytelling space that works with Survivors to tell experiences through objects. This space interprets the materiality and physical environments of the various iterations of Shingwauk Schools. This is done using the display of artifacts, using artifact-oriented storytelling techniques, and developing interactive educational programming exploring object affinities.